"Tony really gave me my first chance to show what I could do. He really was one of the nicest persons you could ever wish to meet. He has been missed on our screens by a lot of people for a few years and he will be missed by everyone even more now." - Wilf Lunn -
Tony Hart - News
Tony Hart – so good we mourned him twice!
Author: Site Admin - 23 February 2015



Roc Renals passes away aged 92
Author: Site Admin - 13 June 2014



New Plaque Unveiled
Author: Site Admin - 04 July 2009



Morph Mania
Author: Roc Renals - 01 March 2009



Memorial To Go Ahead
Author: Site Admin - 01 March 2009



---
Morph Returns!

Tony's irrepressible companion Morph returns in a series of online episodes on Morph's YouTube channel at 17.15 on Friday 4th July
This is the exact time of Morph's first appearance on Take Hart in 1977
For more information go to http://is.gd/MorphSubscribe
---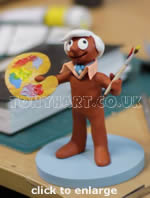 Aardman creates a Tonymorph!

Aardman have dedicated a Morph model to Tony Hart. Created by head model maker Enty (Chris Entwhistle), the Tonymorph bears more than a passing resemblance to Tony´s mischievous sidekick Morph - despite the snowy white hair, the cravat and the palette!

Aardman co-founder Peter Lord presented the model to Tony´s daughter, Carolyn Ross, during filming for BBC´s The One Show.
See how Enty did it
---
Book available from Amazon and other booksellers.
---
Tony Hart self-portrait