The famous gallery music is called Leftbank2 and was chosen by BBC production assistant Gillian Reilly. 'Cavatina' by John Williams was also used later on but Leftbank2 was stamped indelibly in the minds of viewers and was forever associated with Tony Hart and the famous Gallery. -
Tony Hart - 1925-2009
An inspiration to several generations of artists, animators, graphic designers and teachers, children´s TV artist Tony Hart was best known for the BBC´s art programmes Vision On, Take Hart and Hart Beat.
Speaking to the BBC in 1996 Tony said: "I hope I´ve achieved the sort of programme that entertains first, informs, amuses and maybe surprises - and that people watching will think "I might have a go at that one day!".

Tony Hart´s television career spanned 50 years, and his programmes won many awards. In 1984 Take Hart won a BAFTA award, and in 1998 Tony himself received the BAFTA Lifetime Achievement award. Aside from his own programmes, Tony made regular guest appearances on radio and television, and involved himself with a number of children´s charities including the Cystic Fibrosis Trust, Tadworth Children´s Hospital and Riding for the Disabled.

The music you can hear is Marguerite by Bob Morgan and was used for The Gallery in Take Hart. Our gratitude to Bob, Zoot Music and KPM for special permission to use it. Marguerite was composed by Bob to mark a very personal loss of his own - the significance is not lost here.


So What is This About?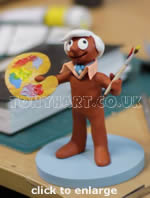 Tony inspired several generations of children to be creative, many of them going on to become artists in their own right. They in turn have gone on to encourage their own children to be creative because Tony Hart showed them how. His legacy is enormous and enduring, and the heartfelt words posted in the remembrance book demonstrate how much Tony was loved - by people of all ages.

Tony made making pictures look so easy, and always used materials that were inexpensive and readily available, encouraging everyone, regardless of age or artistic talent, to have a go.

That´s what we all loved most about Tony Hart, those quiet moments when he inspired so many of us to pick up a pen or a crayon or a bit of old cardboard and create something all on our own. What better gift than that.

Tony Hart died in 2009 at the age of 83.
Tony Hart - 1925 to 2009